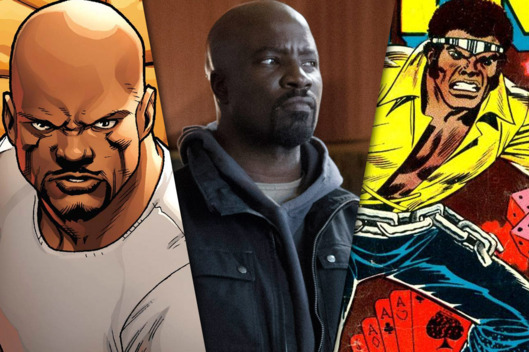 Luke Cage, the newest in Netflix's very high quality line up of Marvel shows, joining Daredevil and Jessica Jones. Fans of Jessica Jones will recognize Luke Cage as he makes an appearance, and fans of Daredevil will recognize nurse Clair Temple. It's important to remember that all of these shows take place in the New York Boroughs; Daredevil has Hell's Kitchen, while Luke Cage takes care of Harlem. As an early warning, since Luke Cage is a black man in Harlem who wears a hoodie and his power is being bulletproof (and super strength), there is no proper way to approach this without at least touching on US race relations, and their interactions with the police. This certainly isn't new for this character – he looked and acted like the star of a Blaxploitation film even at conception of the character, which was a step up from one of only two previous black superheroes, the first of whom is literally named "Black Panther".
The plot:
Luke Cage is a former marine/police officer turned escaped convict hiding in Harlem, with his days spent working in "Pop's Barbershop" and his evenings working as a dishwasher in "Harlem's Paradise" to pay his rent for a little room above a Chinese restaurant (named Ghengis Connie's, run by Connie, making it my new favourite fictional restaurant name) and live a quiet life. He also has bulletproof skin and superhuman strength as the result of a private prison experiment on inmates, powers he has no intention of using. He is very much of the "I never asked for this" superhero variety. The season is split into two sections; the boring-ish phase, with Luke repeatedly refusing to take on the protector mantle, and the stepping up phase, where he faces/explains his past and deals with his biggest threat. It's fairly standard as these things go and it almost feels as if they made two half seasons with the second much more exciting than the first.
We begin with a general theme of gang violence and political corruption, as the Stokes family exercises their influence through cousins Cottonmouth (club owner and crime boss) and Mariah Stokes (crooked city councilwoman). Luke Cage's general good guy-ness puts him in between some of their thugs (aggressively soliciting campaign donations) and the innocent people of Harlem. The fact that bullets literally bounce off him quickly draws attention, as does his ability to single handily toss people around, and he becomes a target for an underworld that sees him as a threat. No bonus points for guessing that choice collateral damage might be a key component to his final decision to step up as a hero. As a side note my favourite running gag of the whole show is the fact that he continuously needs to find new sweatshirts because his old ones keep getting ruined by the whole bullets thing.
While this is going on (and throughout the rest of the show), we also follow Detective Misty Knight (that's an episode two spoiler, my bad), a Harlem local, as she works to take down crime lords and figure out the mystery that is Luke Cage. She is a strong character with a compelling arc, dealing with the street, corruption, and her own position within the department. She honestly has a stronger presence than Luke Cage himself, a smart and interesting character who is never once boiled down to a stereotype, and as a black, female cop that's something special.
The second half comes with the inevitable 'deep dark past' portion of Luke's character development, where a sinister character, who has apparently been pulling the strings behind the scenes and has a personal grudge against Luke, appears. To be honest this portion felt rushed and probably should have been its own season. One season ending on 'I will step up to defend this city', and the next on 'now you know the details of my deep dark past' are pretty standard story structures, and feel a bit odd when they are both crunched into one single season. Anyway, both are there, and the second arc covers his whole backstory, minus the time covered in Jessica Jones.
The feel:
I want to talk about the feel of this show, but before I do I should let everyone know that I was born in Connecticut, and am thus fairly far removed from the culture in the show (read: as white as humanly possible).
I love the way the show is portrayed, no dumb stereotypes, just honest portrayals of people in a shitty economic and social environment doing the best they can. I'm watching this the same way I watch Chinese or Korean movies (highly recommend Age of Shadows by the way, excellent new film), in that in addition to the action, the characters, and the framing, I'm enjoying it for the cultural education. The movie I would relate it to most would be Straight Outta Compton. Now those who have and have not seen that movie are going to have very different ideas about what that means. There was a lot of back and forth when that movie came out about whether or not it should have been an Oscar nomination (it wasn't), and having watched it myself I am firmly in the camp that believes that that was a huge snub. If you haven't seen it, I highly recommend it. It is a phenomenal, well-put together film and should be watched by everyone, especially those for whom it may seem vaguely uncomfortable to watch.
Luke Cage had always been a fairly clumsy attempt to appeal to black people in the US (again better than "Black Panther" but still). When he was conceived he was best described as a 'Badass Brother with Soul'. Please imagine that in a psychedelic 'POW' shaped speech bubble a la Austin Powers. They could have made him more of a stereotype but they didn't, they handled him as they should have, as a person, without political agenda, and believe me there are a lot of topical political points that could have been applied to this. They do touch on it a bit when a police officer is killed and the death is pinned on Luke Cage. They show a lot of emotion on both sides, but do their best to show it as two groups of people experiencing a generally shitty and emotional situation. No Black Lives Matter, no Blue Lives Matter, and none of that All Lives Matter bullshit.
Personal aside – Is there any phrase in the English language that goes "x descriptor statement" where you assume there is an "only" following it, as opposed to "too"? Seriously, the whole "All Lives Matter" bullshit either founded on racism, or a failure to have a three year old's understanding of the English language. If I went up to a three year old and told them "green crayons are nice" they wouldn't get all defensive saying "all crayons are nice", because even they can hear the "too" at the end of that sentence. Right? Linguistically you have to understand that Black Lives Matter is a call for emphasis, not an exclusive sentence. When I say "green crayons are nice" I'm not saying the others are worse or matter less, just that I think this one deserves some attention right now. Christ.
But here's the thing (spoilers):
It's not as good as Daredevil. It just isn't. The pacing is off, Luke Cage's reluctant hero thing doesn't hit as well as it should, and most of all it is just too contrived. It is too driven by dumb decisions on the bad guy's part. Too many repeated sending of thugs against someone they know bullets bounce off of. It may be because Kingpin spoiled me on bad guys (go watch daredevil), but Cottonmouth had a lot of potential as a villain and just didn't live up to it.
The very slow first half and fairly disconnected (though much better) second half led the show to feel like it was buoyed up by the phenomenal acting of its cast rather than its own story merits. There are about 6 episodes of boringness before Luke Cage finally steps up for bigger throw downs and more interesting moves. After that happens though they move on to the bigger behind the scenes bad guy, who is a lot less interesting than Cottonmouth, and just a lot weirder.
Most of all I disliked how scripted it felt. I know I shouldn't expect TV to always be consistently logical but still. The three most blatant examples are:
The framing of Luke Cage for killing a police officer is done by the bad guy walking up to a cop in broad daylight, using a special glove to super punch him to death, and then walk away yelling "I'm Luke Cage, My name is Luke Cage" (actual quote). And because he is a black guy in a hoodie (in Harlem), apparently nobody knows otherwise. There are dozens of witnesses, including the guy standing right behind the cop, and whatever the show says, the bad guy and Luke do not look alike, and yet that issue was literally never properly cleared up with the police until Luke gives an alibi.
That Star Wars bullshit with the bad guy being Luke's half-brother. What kind of bullshit is that. I recognize that the writers wanted them to quote Cain and Abel to each other, but that's such bullshit. This mentally unstable man built a weapons dealing empire for the express purpose of killing Luke Cage (who only broke out of jail less than a year ago, jail the bad guy apparently put him in). It's like doing that ridiculous Spectre bullshit where Blofeld takes credit for just everything that has ever happened to Bond. This was unnecessary and ultimately added nothing but flashback/backstory padding.
The pseudo Black Lives Matter Rally. So a cop gets killed and the cops start cracking down, and during this they arrest a thirteen year old and assault him in interrogation (there is a lot more to it than that and that isn't what I want to talk about). But then after that the evil councilwoman holds a rally at Harlem's Paradise and takes the stage and her points go as follows:

It is terrible that this happened; it is unacceptable for the police to do this.
But really this is the fault of thugs like Luke Cage.
The police aren't equipped to handle powered people like him.
The Police need to be better equipped
We need to push to give the police bigger and better weapons.
Each point punctuated by cheers. How fucked up is that? In a 5-10 minute scene she drew people who were angry about cops beating up a child to supporting giving cops better guns. That's some contrived bullshit right there.
I still like the show, and I'm an avid Marvel fan so it is basically aimed at me. I also do think it is better than a lot of other shows. But it is low quality for a Netflix production, and certainly worse than Daredevil. My advice is to go watch Daredevil. If this is really your thing, then this can certainly keep you watching, but if you aren't a huge Marvel fan, then Narcos is also a thing (I'm halfway through season one), and it's better.