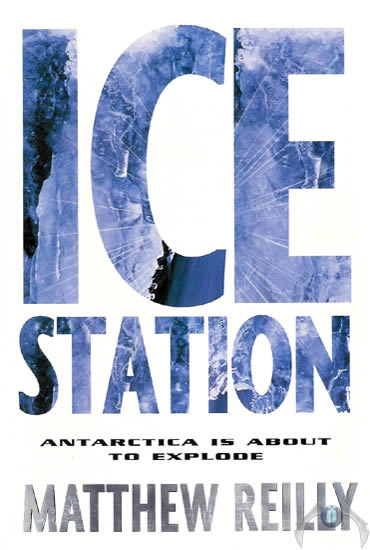 Ice station by Matthew Riley was conceived under a simple premise. The conventional view (for action movies at least) is that movies are the less civilized, more spectacle oriented medium compared to literature, the more proper, narrative oriented stories. Matthew Reilly thinks that is bullshit, that novels can definitely be spectacle oriented ridiculousness, and there is no real barrier to the medium. And boy can he do it, because Ice Station is basically an 80s action movie in book form. It's Platoon meets Die Hard set in Antarctica.
The plot:
A research team in Antarctica finds an underground cavern and sees what they believe is a spaceship. Immediately thereafter the exploration team hears a high pitch whistling noise and is suddenly wiped out. Their distress call is heard by 3 different ice stations, but none send a response. Lieutenant Shane Schofield of the United States Marine Recon force is sent with his team to investigate, but when he arrives he quickly realises that all is not as it seems. Schofield and his team then fight off commandos from a variety of other nations, killer whales, and unknown threats as they work to secure the station.  I don't want to talk about the details too much because the twists are well executed, interesting, and worth experiencing for yourself.
Something amazing about his writing style though is how he builds a setting so organically through text. Matthew Reilly right from the start shows Shane Schofield going over a schematic of the ice station, naming what each level is and what is on it, making a point to relate the two throughout the book (ex. he heard a noise from B deck, that was where the residential area was). It helps readers keep a mental map of where everyone is and what they are doing. Films do this with establishment shots; John McLane will go through the Nakatomi towers before shit goes down so you don't need an extra explanation of the floor plan through the fight.
The Characters:
His characters are colourful and unique. I won't say that they're particularly deep but they aren't one-note characters. He makes you care, he makes you like them, and they feel like they are a family. More importantly though, his character descriptions are my favourite thing, particularly of 'Mother':
"Whereas Gant was twenty-six, compact and had a short crop of straight blonde hair, Mother was thirty-four, six-foot-two and had a fully shaven head. She weighed in at nearly two hundred pounds. Her call sign 'Mother' wasn't supposed to mean 'maternal figure'. It was short for motherfucker." - Page 65
Shane himself is rather amusingly described, in that he sounds like the quintessential 80s marine. I know it is sort of cheating to keep taking passages from the book as character descriptions but look at this:

"At thirty-two, Schofield was young to be in command of a Recon Unit. But he had experience that belied his age. At five-ten, Schofield was lean and muscular, with a handsome, creased face and closely-cropped black hair. At the moment, his black hair was covered by a camouflaged kevlar helmet. A grey turtle-neck collar protruded from beneath his shoulderplates, covering his neck. Fitted inside the folds of the turtle-neck collar was a lightweight kevlar plate. Sniper protection.
It was rumoured that Shane Schofield had deep blue eyes, but this was a rumour that had never been confirmed. In fact, it was folklore at Parris Island – the legendary training camp for the United States Marine Corps – that no one below the rank of General had ever actually seen Schofield's eyes. He always kept them hidden behind a pair of reflective, silver, anti-flash glasses." - Page 22
Nothing I describe can top that. He sounds like he should be fighting cyber Nazis for freedom in the jungle while he tries to forget his troubled past and love again.
He has a whole roster of people like this, and side characters that pop in and out with equally interesting characteristics. A tip though, whenever a name is mentioned, write it down, because he is really good at pulling tidbits from earlier into the book into major plot points later on.
But here's the thing:
It's still a bit dumb. This is the Die Hard of literature, and if that's not your thing then this probably isn't for you. There are killer whales, submarines, commandos, jet fighters, seals, navy seals, and magic magnetic grappling hooks.
There is some ground for fairly intelligent discussions about Antarctica as national territories and how those governing nations treat it, and how it could be applied to other uninhabitable land masses like the moon (which sounds like hyperbole, but is actually a solid point). You can talk about the NATO treaty and its implications for US influence over Western Europe and the rest of the world. Or you can talk about how cool it would be to have a little pocket crossbow (very), how much liquid nitrogen you would need to make a viable grenade (it's more than you could comfortably throw), and whether bringing a nuclear reactor on a plane be a bad idea (yes).
If you ever wanted to feel what it would be like to read a well-made 80-90s action movie then this and all of its sequels are the books for you. I really want this to be made into a movie, so does the author, and everyone who reads it does. Just read it and let your imagination fill in the hovercraft car chases.